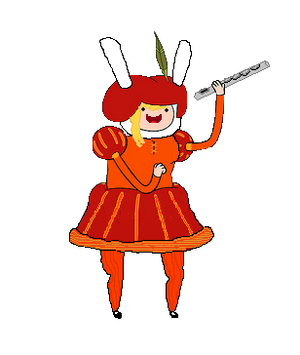 The Flute Suit is an outfit that Cake told Fionna to wear in order to impress Prince Gumball. Fionna sang, "This is my flute suit!" and played her flute. It made Prince Gumball crack up.
Appearance
Edit
The hat is red with a green feather, and has holes for Fionna's hat. It has puffed sleeves that are red with orange stripes. The skirt is also red with orange stripes. The rest of the Flute Suit is orange. The Lyre Player wears a similar outfit.
Ad blocker interference detected!
Wikia is a free-to-use site that makes money from advertising. We have a modified experience for viewers using ad blockers

Wikia is not accessible if you've made further modifications. Remove the custom ad blocker rule(s) and the page will load as expected.