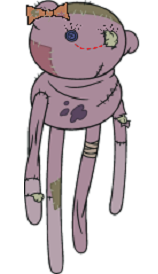 Hamba is Marshall Lee's beloved teddy bear and is the gender swap of Marceline's teddy bear, Hambo. She was created by Myfacefeelslikemagic. She was sold by Ashton, which made Marshall Lee break up with her. Marshall Lee has had Hamba since he was a child, and Hamba has a lot of sentimental value.
Appearance
Edit
Hamba has a lot of wear and tear and is ripped, sewn and patched up, and stained. She is made of purple fabric and patches. One of her eyes is a button. Her mouth is sewn on in red thread. She has a bow made of rags.
Ad blocker interference detected!
Wikia is a free-to-use site that makes money from advertising. We have a modified experience for viewers using ad blockers

Wikia is not accessible if you've made further modifications. Remove the custom ad blocker rule(s) and the page will load as expected.