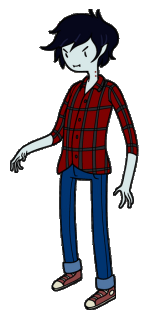 Not Just Your Little Boy is a song sung by Marshall Lee to his mother. It was accompanied by Marshall Lee playing his Banjolele and Fionna playing her tambourine. The lyrics express Marshall Lee's feeling about his mother.
I know you just wanna give your little boy the world
But mama I'm not just your little boy,
I got my own life
I got my own plans
I hope you understand
And like the way that I am
'Cause I want your respect
And I want to be here
But I don't want to rule the Nightosphere.
Ad blocker interference detected!
Wikia is a free-to-use site that makes money from advertising. We have a modified experience for viewers using ad blockers

Wikia is not accessible if you've made further modifications. Remove the custom ad blocker rule(s) and the page will load as expected.